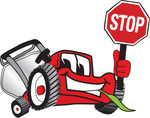 Middleburg Power Equipment Inc is highly sensitive to the privacy interests of consumers and believes that the protection of those interests is one of its most significant responsibilities. In acknowledgment of its obligations, Middleburg Power Equipment Inc has adopted the following Privacy Policy applicable to information about consumers that it acquires in the course of its business:

1. Acquisition of Information. We do not acquire any more information about consumers than is required by law or is otherwise necessary to provide a high level of service efficiently and securely.

2. Our Employees and Privacy. We train all of our employees about the importance of privacy. We give access to information about consumers only to those employees who require it to perform their jobs.

3. Security Measures. We make access to privacy-sensitive information subject to rigorous procedural and technological controls, consistent with legal requirements and the demands of customer service.

4. Disclosure to Third Parties. We will provide individually-identifiable information about consumers to third parties only if we are compelled to do so by order of a duly-empowered governmental authority, we have the express permission of the consumer, or it is necessary to process transactions and provide our services.

5. Privacy and Our Business Partners. When we make our technology or services available to business partners, we will not share with them any more consumer information than is necessary, and we will make every reasonable effort to assure, by contract or otherwise, that they use our technology and services in a manner that is consistent with this Privacy Policy.

Middleburg Power Equipment Inc's primary goal is your satisfaction! If you ever receive a product that is defective due to workmanship or materials, just contact us for an immediate replacement.  If you ordered the incorrect part or don't actually need the part you ordered, we have a 15% restocking fee. If you ordered the incorrect Engine, we have a 20% restocking fee. Prior approval for return is required.  Contact us for an approval number. Sorry, there are no returns on electrical items.

All of the products we sell and distribute are warranted by the manufacturer of the product.  We do not manufacture any products.  You will need to contact the manufacturer or your local dealer for warranty information and repairs.  Parts that have been installed and Engines that have been started, had Oil or gas added or have been modified in any way, ARE NOT ELIGIBLE FOR RETURN!

All shipments must be inspected before accepting.  If the shipment is damaged or looks like it has been improperly handled, you must notify the delivery driver.  If engine or parts have been damaged excessively, you should refuse the shipment.  If your package is left at your residence while you are gone and it looks or has been damaged, it is your responsibility to contact the delivery company.

Shippers:   UPS, FedEx Freight (Engines over 90 lbs are shipped via truck & you will be notified of the carrier)

Note

Prices, terms, specifications, and programs are subject to change without notice.  Should any errors be found in our catalog or on our website, we reserve the right to correct them.  List prices are suggested only.